| | |
| --- | --- |
| | If Cuppy And I Get Married, To Hell With Tradition, I'm Changing My Surname To Otedola – Man |
Published
By: TESTIMONY
in News
2 weeks ago
It has become quite normal for females/women to change their surname to that of their husbands' when they get married. But you might be wondering, why do they do this? It is simply because upon marriage, women go from being part of their parents' family to becoming their husbands' property; so because of this, they adopt his surname.
I came across quite a peculiar tweet some moments ago when a man known as 'Alofokhai Samuel' on Twitter made a revelation. According to him/in his exact words, "If Dj Cuppy and I get married, to hell with tradition and history, I'm changing my surname to Otedola… My ancestors will be alright".
This is definitely unusual as it should be the other way around. The probability of him getting married to popular disc jockey and daughter of billionaire, Femi Otedola is very slim, and it's obvious. But if it should happen and his surname is really Alofokhai or Samuel, then Dj Cuppy whose real name is Florence should be known as Florence Alofokhai or Florence Samuel. But Mr Samuel doesn't care about tradition, nor history; as he also claims that his ancestors will be alright.
We all know that Otedola is a very powerful name not only in Nigeria but also in foreign lands. If someone bears the name Otedola, whether you like it or not, that person gets additional privileges, fame, and probably other good things of life.
See how few Nigerians reacted to his post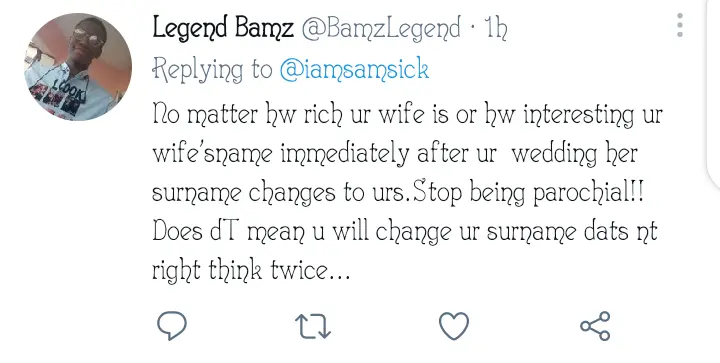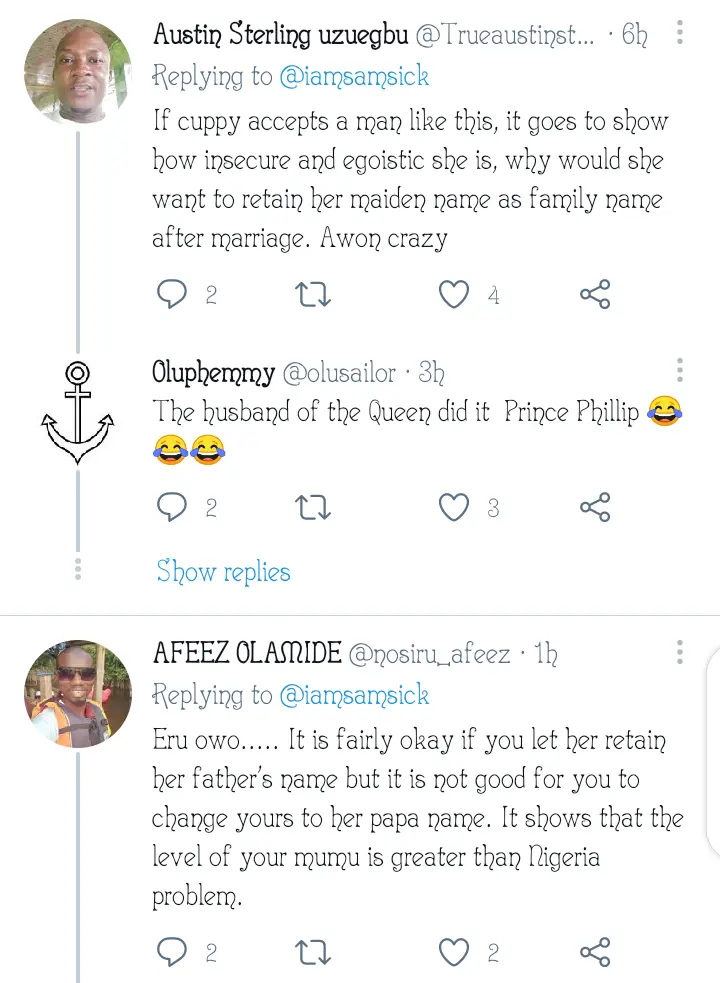 Do you agree with Samuel? Are you willing to abandon tradition and change your surname to that of your wife's just because she comes from a wealthy and popular background? Kindly leave your comments below. And please, don't forget to like, share, and also follow me for more updates. Thanks.
---
---